How to draw animals for kids step by step
Understanding the principle of how to draw animals for kids step by step with a pencil is easy. In most cases, the structure of the body is approximately the same for everyone, both domestic and wild animals. But what makes one "blank" a wild wolf, and the other cute and amusing kitten? This is what we will talk about.
The history of the first images of animals
But first, I want to dive into history a little to understand how and why people began to draw wild animals. One of the first attempts to portray something appears even in the first people, our great-great-great-ancestors. What was it? Why did ancient people take hot coals from a fire, or for a long time, through lengthy experiments, found the paint formula?
People put so much effort and hope, and they did it so seriously, but why? Here are some of the suggestions: Perhaps drawing animals was a simple but creative way to decorate your home; Meeting the creative needs of man, Or a kind of preparation for obtaining food; Or maybe these pictures of animals for children are a visual aid?
Step by step drawing for kids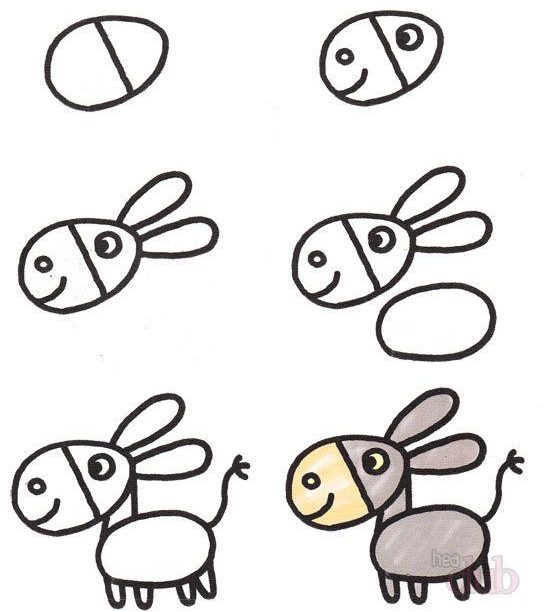 For example, they serve children of 5 years of age as visual aids for the very first biology lessons in the world; But sometimes both domestic animals and representatives of wild animals look so strange and implausibly naive as if their child was 5 years old. Whatever the reason that once a person was interested in how to draw animals, now each of us finds many interesting moments in this lesson.
The benefit of the ability to portray animals for us
There is another type of benefit from such an activity. Together with our children, we learn to draw animals. Such activity will allow not only to make cute pictures but also allow us to communicate with our kids. For example, before learning how to draw animals in stages, you can read books together with your little one, exploring the nature and habits of the beast. In a simple conversation, we get closer to our little one. And he learns to trust and freely tell us his thoughts and feelings.
It is interesting and fun to draw with a pencil, and our children will appreciate and not forget such a pleasant pastime. Besides, how nice it is to do something with your own hands. This vividly proves a new direction in applied art, like hand-made. Here you can safely include animal pencil drawings for beginners and already experienced artists. Being able to quickly make beautiful sketches, you can always surprise or please someone.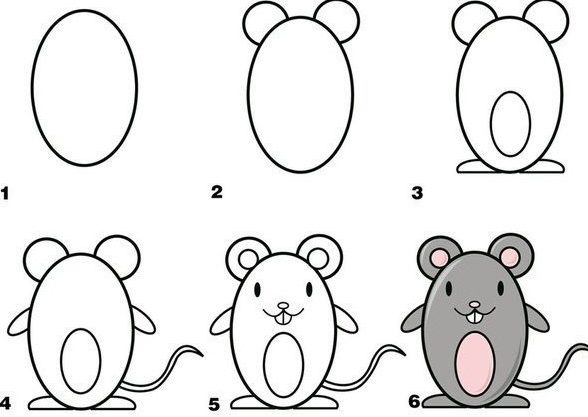 For example, taking just a few animal painting lessons, we can make our home beautiful. Even pencil-drawn pictures, but made by our hands, will look fresh and original. Drawings can be done in color, and with a simple pencil, and paints. And you can pick up any surface for them, for example, on glass with special paints. Animals can be drawn with a pencil, both on the walls and on the wallpaper. It will always be pleasant to look at such works. In our ability to perform pencil drawings in stages there is another plus. This is an opportunity to create a unique present.
For example, we can take drawings of animals for sketching and do our work in a style peculiar to us and with an inscription that emphasizes respect and love for the person for whom this surprise was prepared. How to quickly and easily learn how to draw animals. Even those who have never held a brush or pencil in their hands, perhaps, in the middle group of a kindergarten, when he was 4 years old, they can acquire skills in using a pencil for beginners, using art to draw from photographs. Where can I get pencil drawings for sketching animals?
This can offer our site, along with step-by-step instructions for the drawing of a particular animal. Our pictures for sketching are accompanied by interesting stories and useful tips. These are easy to use for both adults and children. There is a single principle for performing in stages easy to draw animals cute for kids. First, you need to make approximately accurate in scale auxiliary lines, grids, circles and ovals. They will become the basis of painted animals for children and adults. After such simple work, even the little ones will easily move on. For example, to draw animals step by step, you first need to prepare all the necessary tools and materials: pencils, eraser, paper, ruler, and shavings.