The brutalist style is ideal for spacious studio apartments and offices, houses with high ceilings. To reveal its uniqueness and see the beauty in simple things, an exclusive creation of modern brutalist interior designs by the Do It Before Me studio will help. Original decorations emphasize the deliberate naturalness and roughness of textures, giving sharp forms a modern look.
Brutalist style in architecture and design
The term "brutalist" originates from the use, by the pioneer modern architect Le Corbusier, of 'Beton brut' – translated from French, literally means "raw concrete." This is how he described the typical architecture of houses built in the post-war years. Concrete and masonry became the "basis" of brutalist design. Rough textures are not hidden here but are put on display.
A characteristic feature of the style, which makes it recognizable, is incompleteness. The interior decoration and furniture in the brutalist style look partly "unfinished". This design sends back far into the past, to primitive times of mankind, when people themselves built their own houses from improvised materials.
To create a rough, "severe" and at the same time comfortable design in an apartment or house, other style features must be taken into account.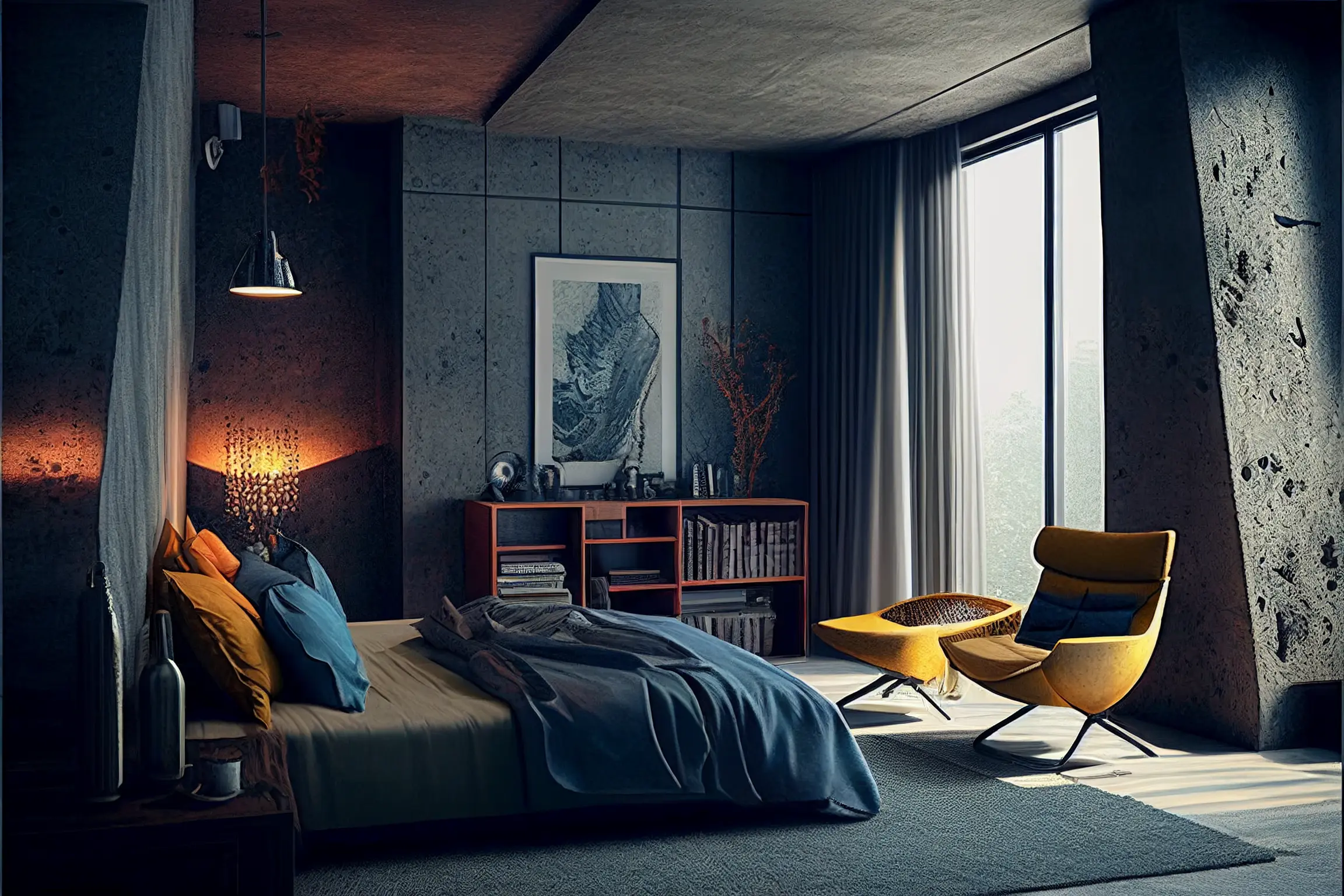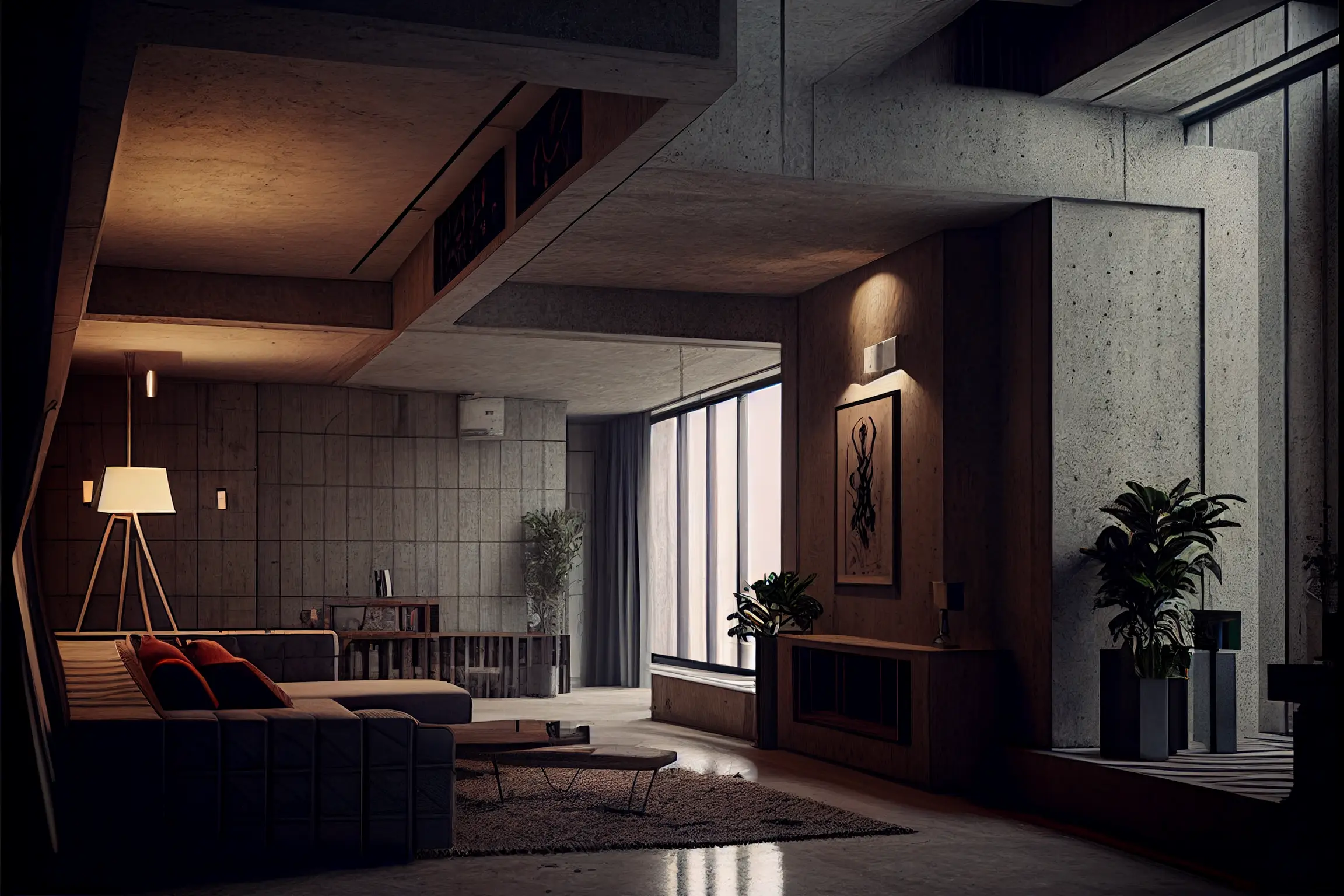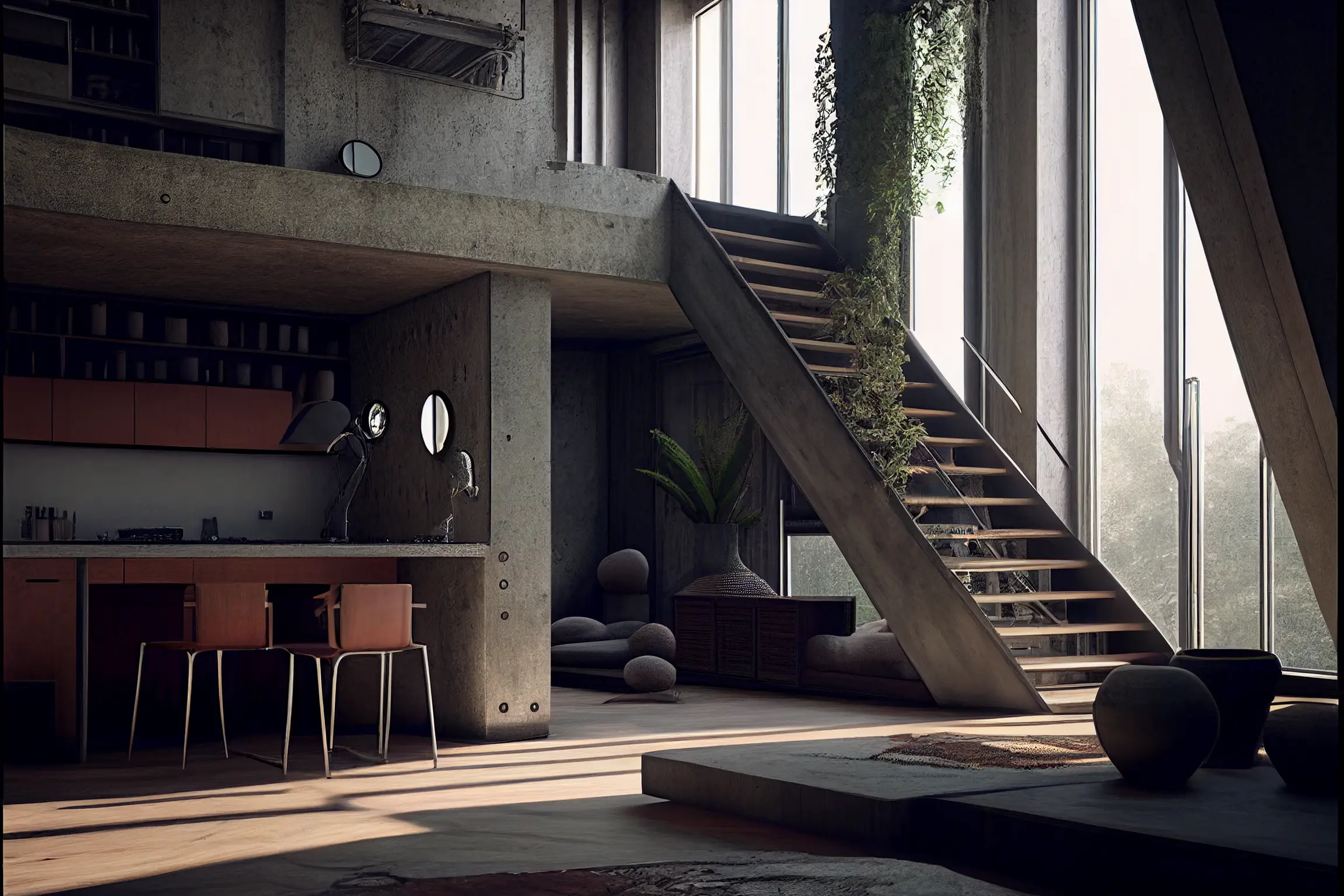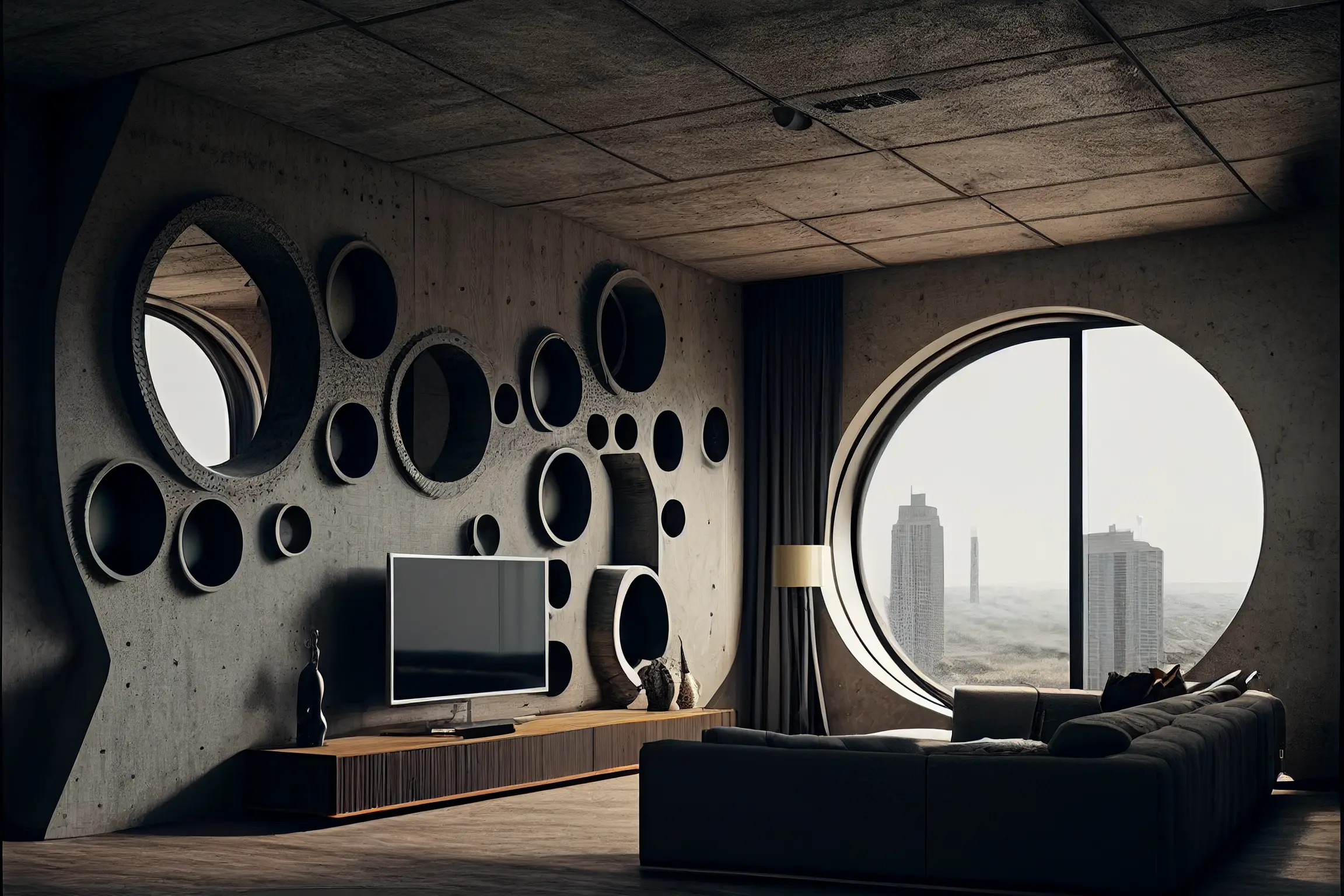 Features of Brutalist Style
In addition to concrete and brick structures, the brutalist design welcomes glass, metal, and carelessly processed wood.
Walls
Concrete or brick walls are not covered with wallpaper and paint. An exception is a layer that imitates a "bare" brick. Wooden or metal wall panels will create an expressive textural contrast and help to delimit the space into functional zones.
Floor
Concrete floors, traditional for brutalist interior designs, are cool, so they are not very suitable for a living space. To maintain a "severe", detached image, we suggest using a parquet board in natural shades (ideally, with an artificially "aged" texture). And for finishing the bathroom and kitchen, ceramic tiles of soft colors can be used.
Ceilings
An uncovered, unpainted concrete ceiling emphasizes the freedom and simplicity of the brutalist interior style. Open wires and pipes will not violate the harmony of the interior design – no need to be masked.
Furniture
Furniture in the brutalist style is characterized by sharp, clear forms, and a minimum of decorative finishes. Its appearance reflects reliability, confidence, and practicality. The center of the kitchen will be a massive wooden table and simple chairs on straight legs, and in the living room, there is a place for a sofa and armchairs upholstered in burlap, leather, or eco-leather. Designers advise focusing on a cabinet, built-in models that take up a minimum of space and combine the functions of several pieces of furniture. Combinations of materials are welcome – wood and metal, stone and glass. Combined products are rarely found in stores, so ordering designer furniture according to individual parameters is a good solution.
Windows and doors
The absence of curtains is not a drawback, but a "trick" of brutalist interior design. If you feel uncomfortable without curtains, wooden or metal blinds are also an option. Since natural lighting here acts as a kind of decorative element, wide, panoramic windows are chosen for decorating rooms, letting in maximum sunlight. Loft-style wooden doors will help to emphasize the aesthetics of the design – massive, strong, and without unnecessary details.