Children spend their free time in one way or another. Conscious parents can and should manage their children's free time in the most effective and quality way possible. Why don't we spend this free time by coloring the easy coloring pages offered for free on this page, right?
Coloring offers the opportunity to develop artistic skills and have a very enjoyable experience with the participation of a friend or family member. These special pages nourish children's imaginations with the freedom to use of colors and help them develop a creative perspective.
These easy coloring pages, which can be both fun and educational with appropriate guidance, support children's learning process while also allowing them to freely demonstrate their artistic expression skills. Allowing freedom in color choice helps children create their own unique designs and find their personal expression.
Easy coloring pages allow children to have fun while learning by combining education and entertainment. The pages are sometimes extremely plain, simple and understandable materials sometimes become complicated and complex, pushing children's limits in a child-appropriate way.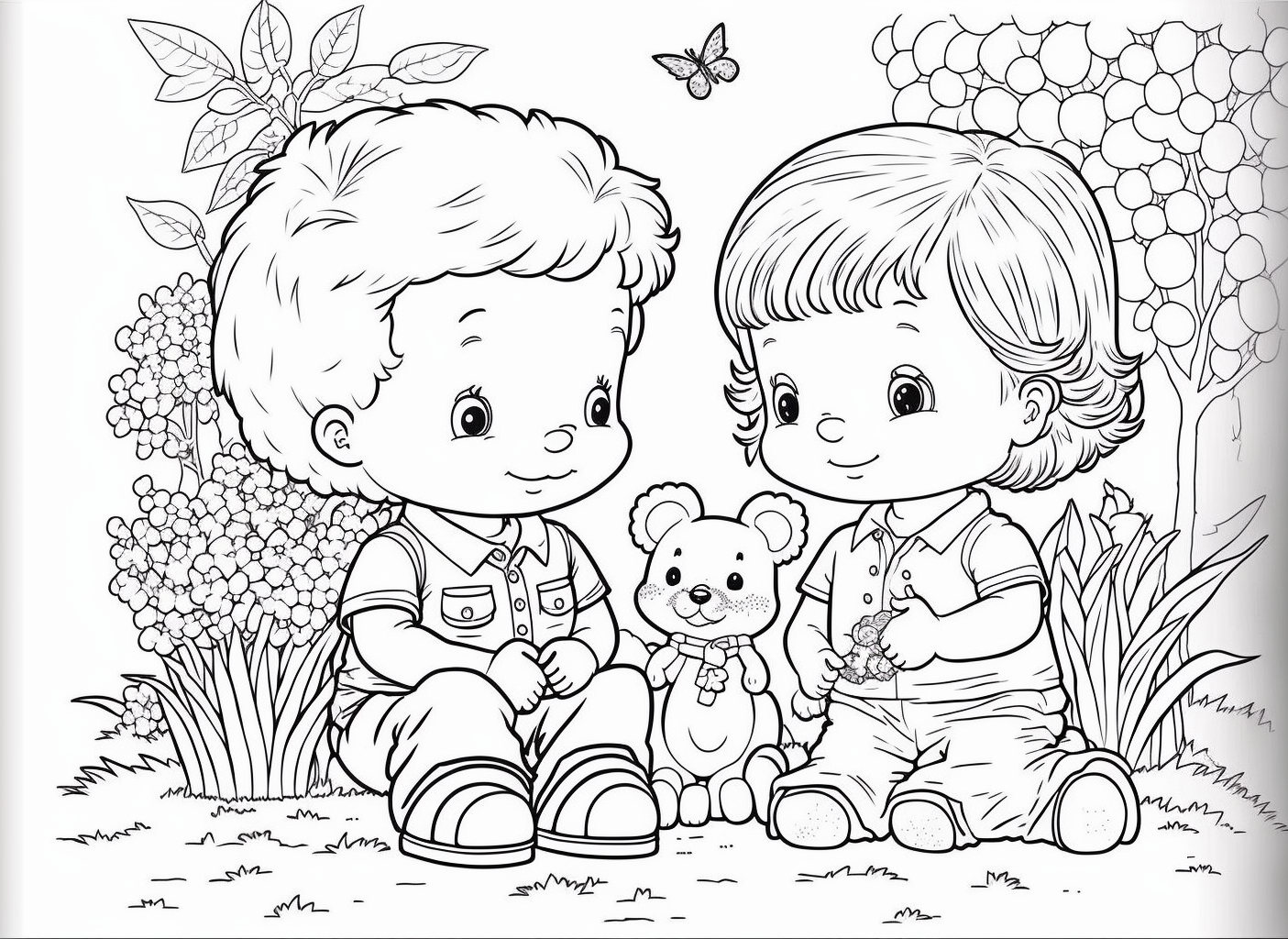 Academic research has shown that the coloring process increases children's ability to focus, including children with special needs, and also helps them keep their interest in learning high. (For more information on this subject, please see: Augmented reality coloring book: An interactive strategy for teaching children with autism to focus on specific nonverbal social cues to promote their social skills)
Can the Coloring Pages provided under this page be easily printed?
Although many people would prefer coloring digitally on tablets these days, there are still many people who continues to prefer old-school. Since academic papers, covering the topic, suggest that limiting children's blue screen exposure would be an appropriate decision for many conscious parents. (Please see this article on the effects of blue screen exposure on children and adolescents: Stiglic N, Viner RMEffects of screentime on the health and well-being of children and adolescents: a systematic review of reviewsBMJ Open 2019;9:e023191. doi: 10.1136/bmjopen-2018-023191)
Considering these issues, of course, the fact that the coloring pages are printable is a great advantage for children and parents. Aside from protecting children's mental and visual health, parents also have the opportunity to protect children's well-being as well as providing children with the opportunity to obtain and store these pure and innocent works of art in a physical form. Printable coloring pages allow children to transfer their creativity from the digital environment to paper and immortalize the painted pages by eventually framing them and hanging them in a suitable place.
After children fill the coloring pages with their favorite colors, they have the opportunity to share their coloring page creations with their families, friends and loved ones. Easy coloring pages give children the chance to showcase their artistic talents and decorate both their personal rooms and their classroom environment with their own works.
For parents, having printable coloring pages allows them to immortalize the works of art their children produce and easily share them with the social circle, helping them add a unique new one to their special moments.
Are the Coloring Pages on this page Free?
Do It Before Me offers free coloring pages to all its visitors and does not expect anything in return from its visitors. All we want is to create an artistic sparkle in our children's eyes and to ensure that they have quality time with their families. We believe that thousands of children will have fun and be an extremely important part of the interactive art activity thanks to these coloring pages we have created on our site.
Finally, it is worth saying that, although the coloring pages on this page are specially designed for children, the appeal of this coloring page can appeal to the tastes and interests of people of all ages. At the end of the day, we recommend everyone to explore colorful worlds and evaluate our coloring pages to showcase their creative expressions and relieve stress.